Earlier this week, powerful earthquakes and subsequent aftershocks hit southern Turkey, killing and injuring thousands and causing unthinkable devastation there and throughout neighboring northern Syria — a part of the world already vulnerable from years of war.
The scenes of destruction, especially during the extreme cold of winter, are heart wrenching. When disasters strike communities, the Mission calls us to act to extend health and healing. If we can't be there to offer the human connection for that healing, we turn to trusted partner organizations who are on the ground.
Providence and the St. Joseph Community Partnership Fund are supporting two trusted partners — Catholic Relief Services and the Center for Disaster Philanthropy — by donating $100,000 to each organization for $200,000 total. The funds will help CRS and CDP provide cash assistance, health care, clean water, hot meals, clothing, safe shelter and hygiene supplies.
Anyone who wishes to help can consider making individual donations directly to CRS or CDP.
This is likely the beginning of longstanding humanitarian efforts for the people of southern Turkey and northern Syria, and any amount will help.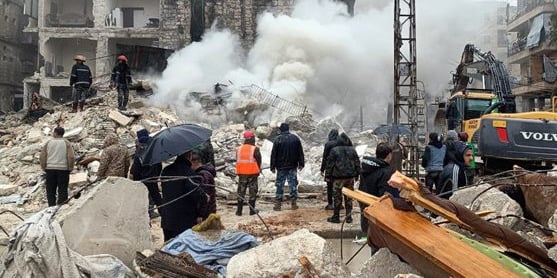 Photo courtesy of Caritas Syria.