The Food and Drug Administration's emergency use authorization of the first COVID-19 vaccine is the some of the best news we've received all year. The decision was made after an FDA advisory committee reviewed and validated data showing the vaccine to be safe and highly effective. This is a major scientific milestone that will help us to curb the spread of a disease that has brought the world to a standstill.
At Providence, we are planning to administer the first doses to our highest-risk, front-line caregivers as early as this Wednesday. If you are a Providence caregiver, here are some important ways you can help us prepare.
If you have not already, update your information in the

Validate and Verify tool. This will help to ensure our records are up to date. Through the tool, you can validate and verify your role and work location, assess your risk, indicate your willingness to get the vaccine and provide contact information so we can follow-up with you when you become eligible and vaccine is available.
Learn about the vaccine. We know there are many questions about side effects, safety and efficacy, and that some caregivers may be hesitant about getting immunized. We encourage everyone to

get the facts and review the data for yourself.
Watch our vaccine Town Hall. A link to the video will be provided in this week's caregiver newsletters. We'll provide an overview of the science behind the vaccine, discuss our high-level distribution plan and answer frequently asked questions.
You'll learn more from your local leadership soon about when the vaccine is coming to your state and how it will be distributed. In the meantime, please see a brief FAQ below for answers to common questions.
For many of us, the coronavirus has been the most challenging experience of our careers, and we still have a few more hard months to go. But the vaccine marks a turning point and will be an important way that we change the trajectory of the pandemic. As always, thank you for all you do. We are deeply grateful for your dedication and courage throughout this crisis.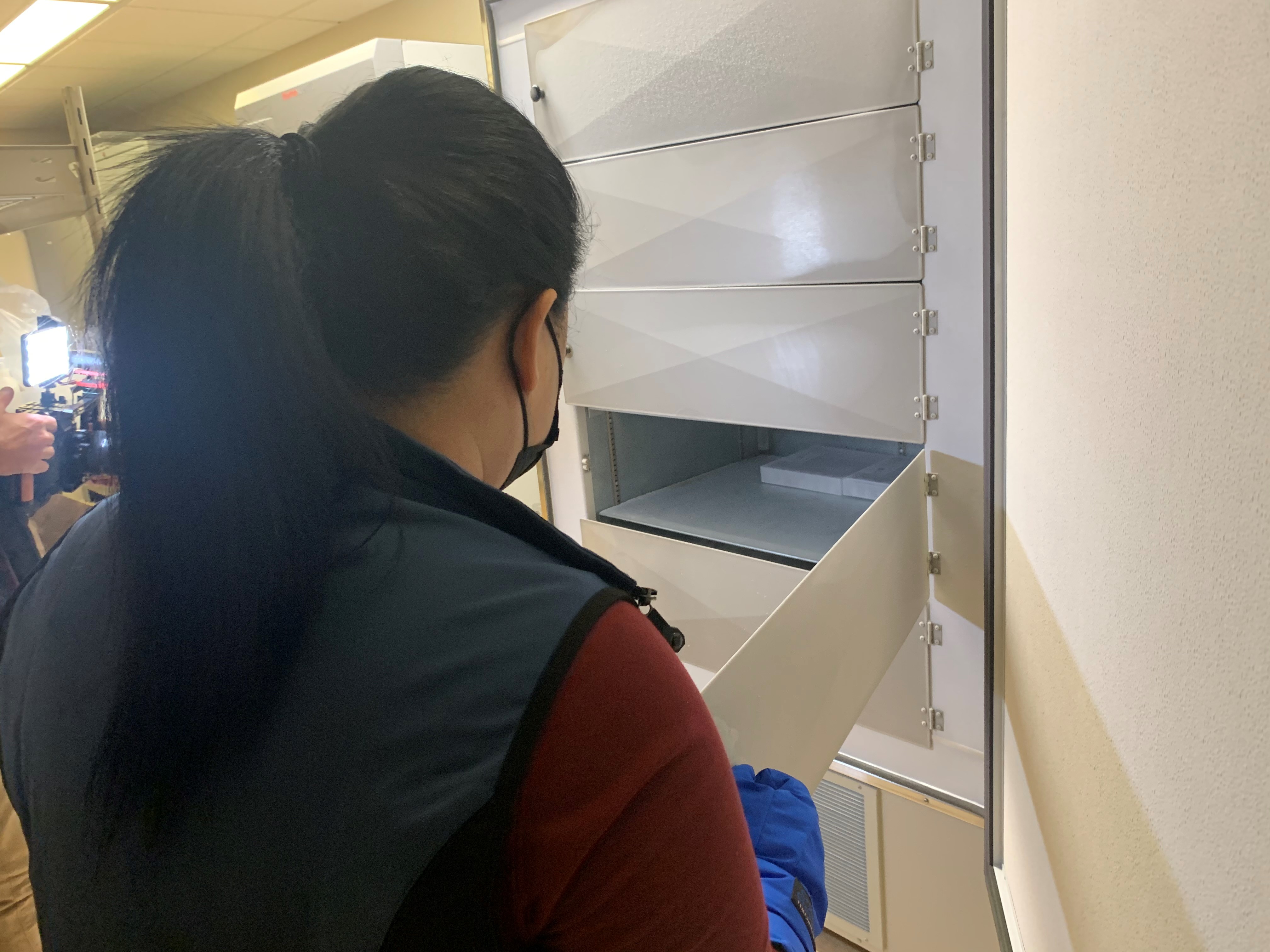 The vaccine is immediately placed into the freezer.
FAQs
Which caregivers will have first access to the COVID-19 vaccine? Because initial supply will be very limited, the vaccine will be rolled out in phases per the CDC, starting with c
ertain high-risk caregivers, and residents and patients in long-term care facilities. We are carefully assessing risk within our workforce to equitably distribute initial doses to those at highest risk of exposure, based on role and work location. Public health authorities indicate that it will be made available to the broader population over time and as vaccine supply increases.
Will caregivers be required to get the COVID-19 vaccine, when eligible? No, not at this time. However, we strongly encourage all caregivers get vaccinated as soon as they become eligible. Immunizing the health care workforce for COVID-19 is a critical step in changing the trajectory of this pandemic and finally getting it behind us. Like PPE, vaccines are an important line of defense against disease. The COVID-19 vaccine can limit the spread of COVID-19 by helping to protect you and those around you.
I submitted my information using the VAV tool. What happens next? Thank you for using the tool. Those who are eligible to receive the vaccine as part of this first phase will receive notifications via SMS text or email. The notifications will prompt you to confirm your interest in getting the vaccine and help you to make an appointment for a vaccination. Before making the appointment, please check with your core leader to help coordinate schedules and ensure adequate patient-care coverage. If you are not part of this initial phase, you will not receive a follow-up communication until you are eligible and vaccine is available.